The girls and I love going on little adventures, whether it be in familiar places like the nearby ranges or exploring new ones, as we did with some of their friends one day in the Easter holidays when we discovered the National Trust's Waggoners Wells- our new favourite place. I'm super excited to be sharing this one with you as I am also co-hosting the 'Let's Have an Adventure' linky this week with the wonderful and talented photographer Gingerlillytea and her equally lovely and talented best friend All of My Days with You. This in itself is a bit of a blog adventure for me as I have never hosted a linky before either so please do join in or just enjoy exploring with the Rollercoasters and all the other adventurers.
Enough waffle - let's go have an adventure:
One day in the Easter holidays with four girls, rather than the usual two it was definitely a day for exploring. I had been recommended nearby Waggoners Wells by a friend and so off we set to see what adventures we could find. Little did we know the myriad of delights and fun that we had to discover. This notice near the entrance tells you a little bit about it all so I don't have to!
As soon as we arrived it was time for the picnic - not exactly lashings of ginger beer but at least it meant that I didn't have so much to carry. We found a perfect spot near a huge fallen tree - a flat spot for the rug and a tree to sit on.
For some reason four of us needed to take our wellies off *ahem* but at least they didn't spoil the view.
Luckily it was deemed sensible to put wellies back on before going for a paddle in what looked like a miniature ford.
Look who is 'King of the Castle' ..
There were hundreds of natural fairy doors and the two youngest girls had lots of fun 'releasing fairies' into the doors.
Whilst the younger ones were releasing fairies the older ones were practising their balancing skills.
And the oldest one (me) appreciated the scenery like the beautiful and mysterious middle lake
and the reflection of the Kingcups on the water.
Bigger Miss struck out on a limb over the water in search of the ducks.
The ducks however were all gathered together for a quack on a nearby branch.


There were literally squeals of delight on spotting this natural climbing frame and it took me hours to tear them away.
Not only were the tree roots made for climbing they also made brilliant caves.
I got a bit bored and started taking pictures of our beautiful surroundings.
We very nearly turned round and went home after the climbing but something made us go on and we stumbled on this Wishing Well which all four girls were fascinated by.
Just down from the well was a beautiful babbling stream - perfect for paddling.
We found a perfect bridge for a game of Pooh Sticks before turning for home.
Little Miss found a tree with a face and big chubby cheeks - can you see it?
True to form I was often to be found taking pictures of the flowers and leaves.
The final delight was spotting a little family of fluffy ducklings, complete with mum and dad.



I literally had to drag the girls home - we had spent 3 hours exploring and we are already planning our next visit. What an adventure!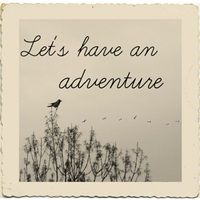 'Let's Have an Adventure' is a monthly linky posted on the 26th of each month. It's open for brand new adventures or old favourites. Keri-Anne and Hannah (and of course the Rollercoasters) would love to have you join us and our merry band of adventurers and please check out everyone else's and give a bit of comment love if you can. Thank you xxx.